I must comment on last night's episode of
Grey's Anatomy.
Indulge me. I'm a dork. Without further ado, here are ten things that stuck out about "Damage Case."
(1) Damaged Hillbillies:
Ha, ha, ha.
A Hillbilly family got into a car crash
. The mother powders her face in traction. She refers to her vagina as her "good girl." And the way they're all yelling at each other from various gurneys is like a frantic Walton family hollering goodnight to John-boy... but then it gets sad. And then it gets
really
sad. And then I start crying and feeling guilty because this poor guy might lose the 22-year-old big haired, hillbilly love of his life and how could I have laughed like that?
(2) Alex-hole:
Just when I think I'll never forgive Karev for being an egocentric slime-wad, he does something semi-nice... because let's be honest, the man could never be purely nice, and therein lies the appeal. He might be evil, and he might betray his colleagues and his friends, but he'll never be a saccharine or self-righteous bore like Izzy. What other intern could manage to be morose after saving a baby's life? Who else would belittle an attending with such a complete lack of self-preservation? The man coined the term "She-Shepherd." For that alone, I love him... and I think it would be so, so great if he ended up joining the loathed Vagina Squad.
(3) She-Shepherd:
Do you remember those fargone days when Addison was a Harpie Bitch Queen who was not worthy of McDreamy? What a difference a season makes! I have so much sympathy for this woman, and I'm so tired of seeing her make all this effort in her marriage while McFuck-Up (MFU) does his best to string two women along. Yeah, she slept with his best friend and this was a terrible, terrible thing. But she's trying to make amends. She doesn't play the victim every episode. And she doesn't sigh and cast come-hither-not-really gazes on defenseless interns. So I like her better than MFU.
(4) MFU:
To all of the fans who persist in viewing Derek Shepherd as Meredith's Tragically Heroic Soulmate, I have this to say to you: stop smoking crack and get over it. This isn't the first time I've
expressed my opinion
regarding Derek's unfair I-can't-have-you-but-I-fully-intend-to-string-you-along behavior. But he reached new lows in this eppy. This man lied to Meredith about being married. He strung her along as he "made his choice." He keeps stringing her along with warm gazes and regretful one-liners, not the least of which was when he showed up in the wee smas after the bomb threat to say asinine things in Meredith's living room. Now he yelled at her in front of others, called her a whore in the stairwell, and mumbled bitterly that it was over before sweeping off like an over dramatic thirteen-year-old girl. People, it
should
be over. Really. But I don't think it is. And like me, you should be queasy over that prospect.
(5) Finn-tastic:
In striking counterpoint to McTantrum-McAngry-McDouble Standard-McFuck Up, Chris O'Donnell's granola crunching vet is absolutely delightful. The man cooks. He treats Meredith to witty banter. He's not pulling her easy access slut-slut lever and getting her into bed. Instead he gives her wine and teases her that she's scary and damaged. He takes her to look at horse birth. And he's a vet... which makes him a rare breed, indeed. (Check the numbers, people. It's
much
harder to get into vet school than med school.) His speech at the end made me want to run my fingers through his hair and help him shave. Ah, McVet. Unlike some people you have cause to act like a whiny prima donna... and yet you don't. Marry me.
(6) Don't Mess this Mojo:
I've got to say, I am
not happy
with this week's tension (and season finale's implied tension/breakup) between Christina and Burke. I love them together, and I think the dramatic possibilities within the relationship are much more interesting than creating yet another angsty we-broke-up-and-we've-got-awkward-colleague-stuff-happening dynamic. Was it just last week that we saw Christina comforting Burke after the death of Musical Heart Guy? Come on. More dancing around the kitchen together as Christina brushess her teeth. More competitive board game double dates. Less with the anger. Please? Thank you!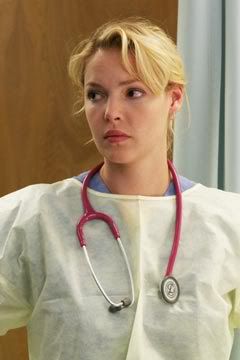 (7) Izzy's Tizzy:
We have here a curvaceous, driven trailer park alumna who put herself through college
despite
the fact that her mother squandered her tuition money on a psychic. Getting to college involved no small sacrifice: in addition to her painfully public career as Bethany Whisper, Izzy also had a painfully secret teen pregnancy that ended with her daughter's adoption. Given all of this, why is she flirting with disaster in the form of DeadMeat Denny? Come on! I like the guy, too, but that's no reason to blow off an entire career. Besides, he's clearly toast. So stop smearing yourself all over the hospital bed already.
(8) Creepy Callie:
Was anyone else delicously skeazed by Callie's morning bathroom appearance? It was hilarious, but I've got to say that when The Boyfriend was living with people I always put a shirt on before heading to the bathroom. Never assume that the roommates are gone and you can prance around naked.
After all, they pay rent. You don't. But maybe I'm just being critical because I have yet to warm up to George-Callie. Maybe I just can't forgive her for the tragic haircut she inflicted on George. Or maybe I just think she's creepy and a little crazy and living in a boiler room.
(9) You Go, John Cho:
Who'd have thought that guy from
Harold and Kumar Go to White Castle
could convey such pathos? I like the fact that the person who caused the Hillbilly Car Crash didn't have a medically valid excuse for his behavior. He didn't get to say to himself, "Oh, I have a tumor so I don't have to feel guilty." Instead, the fact that he was a sleep-deprived intern made it so much more poignant. When he escaped from Meredith to go observe the surgery, my heart broke a little. I'd also like to say the fact that they had an Asian intern makes me so happy... I feel like the multicultural casting on this show breaks a lot of prime time boundaries. It's also an accurate representation of Seattle.
(10) O'Malley Moment:
I heart George. Really. Give me O'Malley over McDreamy any day. His interactions with Meredith in this show didn't get much buzz on the
writer's blog,
but they were the highlight of my Sunday night. He shows compassion. He extends the olive branch. And he still clearly has feelings for her, yet doesn't call her a whore in a stairwell. I can't say more than this. All I know is that I want to watch that scene in the locker room over again, where they're sitting there in awkward silence and he just says, "I'll see you at home." Melt, people. Melt.
Feel free to comment on the episode, my obsession, or the fact that I wrote this when I should be constructing a Personal Impact Plan for the purposes of No Child Left Behind.