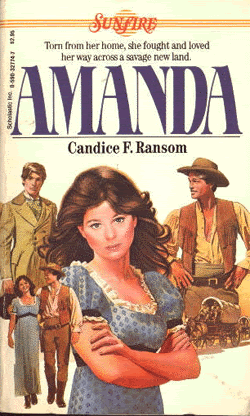 Last week, I wrote about my love for
Jayhawk
. This week, I want to talk about
Sunfire Romances
.
Do you remember these?
Scholastic
put them out in the '80s. It was a line of (sweet) young adult historical romances. Each book featured a different era of American history and a teenage protagonist who had to choose between two men. (Check out the Smart Bitches take on
Sunfire covers as spoiler art
.)
These were already out of print by the time I discovered them in my middle school library. (Yes, I distinctly remember my 7th grade self checking out
Amanda
to enjoy and
Great Expectations
to impress people.) Sadly, I did not get a chance to read them all--but I certainly sampled a representative variety.
As with all romance novel series, the quality of books definitely varied. Of the ones I read, my favorite romances had to be (in chronological order):
Marilee

(Jamestown: Mary Francis Shura)

Amanda

(Oregon Trail: Candice F. Ransom)

Caroline

(Gold Rush: Willow Davis Roberts)


Susannah

(Civil War: Candice F. Ransom)

There are several reasons these books had such an impact on me. First, they encouraged my love of history. Second, they influenced my writing. Even now, I use my favorites as excellent craft examples. Amanda changed dramatically (but convincingly) over the course of her story. Marilee fought against compelling conflict on every page--and all of the villains were satisfyingly punished. Ransom pulled out all the emotional stops in
Susannah
, and I remember bawling every time she raised the emotional stakes. Finally, Roberts gave a classic device new and interesting life in
Caroline
(heroine disguised as boy = most excellent!)
I have actually promised myself that, once I finally finish my National Boards portfolio, I'm going to reward myself by tracking down a few of those Sunfires I never read.
Did you ever read any Sunfire books? If so, which were your favorites--and why?