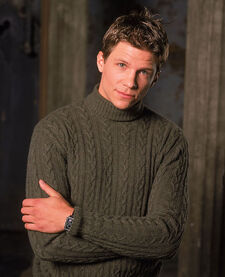 Wow. I seem to be on a
Buffy
kick lately!
Character crushes
on Spike,
T-shirt allusions
, and now... the anti-crush!
Maren suggested that I do a blog post on the anti-crush... that is, the seemingly innocuous character that you just love to hate. The writer(s) of the book, movie, or TV show probably thought they'd created a semi-sympathetic someone. You were supposed to like the guy (or girl) in question. Yet instead, you find yourself consumed with a fiery loathing every time their face appears on the screen (or page, as the case may be). Often, you are not alone. There may be whole fansites devoted to hating this character.
I think the best example of that would have to be Buffy's utterly bland commando boyfriend,
Riley Finn
. Why do we hate him so? I could go into a deep analysis, but that's already been done brilliantly by others. Jennifer Crusie put it best when she wrote
an essay
for
Seven Seasons of Buffy: Science Fiction and Fantasy Writers Discuss Their Favorite Television Show
. Crusie said, "As the corn-fed farm boy, Riley represents the Beautiful American, light and peace and wholesomeness, and Buffy wants to connect to him because she wants to be Good's Girlfriend. But the relationship feels wrong: Riley wears a milk mustache while Buffy's hands drip blood."
Yeah, give me interesting blood over bland milk mustache any day. He wasn't intriguing. He wasn't Angel or Spike. He didn't fit the story, and we were all cheered when he left!
Do me a favor. If you're a
Buffy
fan, read that Crusie article. Then, I challenge you--tell me a bit about the anti-crush character you love to hate!