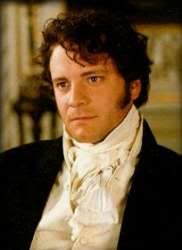 Yesterday, while avoiding my job applications, I decided to finally watch the
Keira Knightley version
of
Pride and Prejudice.
As far as distractions go, it was definitely a letdown... but to be fair, I'm saying that as a history major, a Social Studies teacher, and an Austen devotee.
In my mind, no two-hour movie could ever come close to the
A&E miniseries
. But before I launch into my complaints, please remember that the flitgirl gave this movie a
much more generous review
back in November. And I would like to concur with her assertion that the cinematography was gorgeous. Also, this movie had the best handling of crowded indoor scenes that I've ever enjoyed in an Austen adaptation. The Assembly Rooms and Bingley Ball were quite crowded romps!
I also liked the obvious economic stratification between Darcy and Lizzy. That's another way in which this version trumps the A&E miniseries.
However, as the flitgirl noted, the writers cut beautiful lines of Austen to make way for clunky dialogue. I found the transition between the two modes of speaking quite jarring--
"now I'll speak like a Regency miss." "Now I'll translate the plot for stupid audience members."
This was especially offensive when they cut true gems, such as the famous first line of the book!
I also thought the production team made ridiculous efforts to "sex up the story." Lizzy wandering over to Netherfield with uncovered bedhead, attending a ball with no gloves, or receiving visitors in her nightgown? I think not! And her visit to Pemberley... I couldn't tell whether her new feelings for Darcy were a result of honest reflection, or a lustful byproduct of looking at naked statues. Didn't mind the rainy proposal so much... I'm a sucker for wet movie stars, ever since
Breakfast at Tiffany's.
This is one story I don't think should be cut and condensed. With so many pieces missing, we never really hated Caroline Bingley. The scandal of an elopement seemed minimal, and Wickham only appeared in two scenes. Moreover, without Bingley showing up at Pemberley I almost forgot he existed and wondered why he bothered proposing at all... I also wondered why Jane accepted, but that's another story.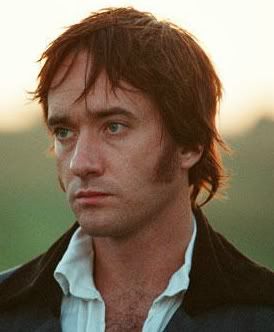 You're right, Flitgirl. This was definitely the best portrayal of Jane I've ever seen. But Bingley was a simpering dork and I honestly questioned his intelligence. Why would she fall for such a fellow? And Mr. Bennet as the doting but absent-minded naturalist, who seems to have a healthy relationship with his wife? Ugh. It's like they took all the satire out of Austen and left an unremarkable romance story.
With all that said, I'm still glad that I saw the movie. As an Austen devotee who adores
Pride and Prejudice,
I consider it my joyous duty to see all permutations of the story! Next up on my viewing agenda:
Pride and Prejudice, A Latter-Day Comedy,
which takes place on the modern-day BYU campus. Should be interesting, and definitely worth a post!