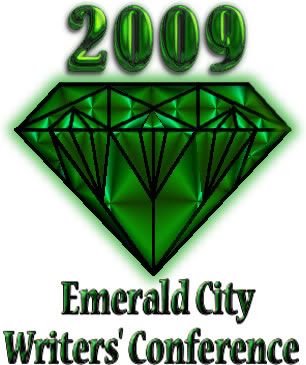 On Monday, I was planning to do a recap of the
Emerald City Writers' Conference
. Clearly that didn't happen! Apparently you have to recover from a conference before you blog about it.
All week long, I've been in slug mode: lots of laying around, reading my new books (the swag was awesome this year!) There was also all that family stuff that fell by the wayside while finishing up my conference committee obligations. Today's been the week for calling back cousins and actually making dinner for my husband. (That's right. Mr. Marvelous subsisted on Cheerios and did ALL of the housework for two weeks--without complaining! I felt he deserved some super suppers in thanks.)
Happily, I am all rested up now and the husband has been duly fed. So, here is my belated recap!
The best part of conference is always the people: reconnecting with old friends (
Shelli Stevens
,
Anna Richland
) and making new ones (
Chassily Wakefield
). We were lucky to have some excellent agents and editors this year, and I enjoyed conversing with them. I also had my first conversation with the fabulous
Cherry Adair
, which was an unexpected treat. In addition to being talented and generous, she's also incredibly funny!
I was behind a desk for most of Saturday, but I did get to attend "Warrior Writer" with
Bob Mayer
... and now that I've sufficiently recovered from conference, I think I need to put some of those workshop ideas into practice. Details later--for now, I've got to get off Blogger and finish reading
his book
!
In closing, thanks to everyone who made it such a great conference. As a committee chair this year, I really appreciated all the support! As an attendee, I appreciated the fun. And as a shameless fan of kareoke, I appreciate the discretion regarding my rendition of "We've Only Just Begun." More and more, I'm coming to realize that I'm a social being in a solitary field. Going to conference always recharges my writing batteries, and this year was no exception.
Question: what inspires you to write? Alternatively, what is the most inspiring memory you have of a writing conference?