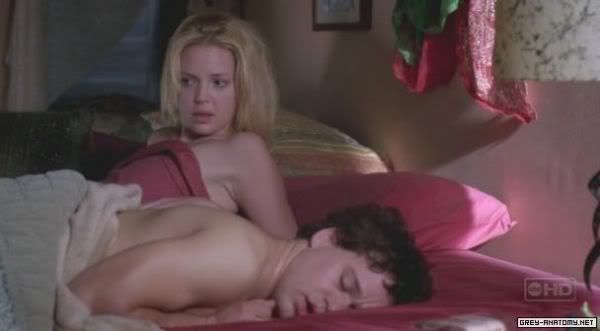 Recently on Romancing the Blog, Daniela L.
posted
about a strange, sick trend on
Grey's Anatomy
. I speak, of course, about the relationship between Izzie and George.
This is especially interesting to me because the Izzie-George tangle is TV's latest attempt to cash in on the "friends to lovers" storyline. This happens to be one of my favorite set-ups in a novel, so it's perhaps not surprising that it's also the set-up for the romance I'm writing. As such, I'm super-sensitive to when it works, and when it doesn't.
Izzie and George don't work, for a number of reasons. First of all, there's the adultery thing. Maybe I'm a prude, but I don't like the glorification of adultery in our media. Secondly, their hook-up corresponds to an unfortunate flattening of the characters from complex and likeable to whiny and somewhat inconsistent. Third, there's the fact that we didn't see a real build-up to this relationship. There was no sexual tension. And is Izzie really over Denny? Is George really over Meredith? Finally, you just don't get the sense that these characters could ever have an HEA. What do they actually do for each other? How do they complement and complete one another? Very, very unclear.
But despite this specific romantic trainwreck, I'd like to think that the "friends to lovers" storyline is one of the most powerful around. Just think about the legendary shenanigans of Rachel and Ross. Even if the constant back-and-forth of their relationship annoyed you, you've got to admit that the initial build-up was fabulous. Think about it: he always had a thing for her, but his underlying character traits made it impossible for him to say anything. You have a little time and distance built into their backstory--both characters went on to find other loves, but at the opening of the show it's clear that Ross's feelings are back, full-strength. The strong friendship between them is one of the attraction points, but it's also one of the conflicts (maybe this is too weird, do I dare risk the friendship, etc). Friends, I feel, also did an absolutely fabulous job of involving the (nosy, delightful) secondary characters in their romance.
Of course, the grand-mommy of all friends-to-lovers relationships would have to be Anne Shirley and Gilbert Blythe. Who didn't love their courtship in Anne of the Island? I'd say that Anne and Gilbert were my first romance. To use a friend's phrase, Gilbert's my ur-crush. Don't be surprised if Anne and Gilbert get their own post sometime in the near future!
So, what do you think? Does "friends to lovers" work, or am I crazy? If it does work, what are the necessary ingredients--what do you like? What do you hate? And what are amazing examples of the past (movies, books, and TV shows) that you'd recommend to the rest of us?