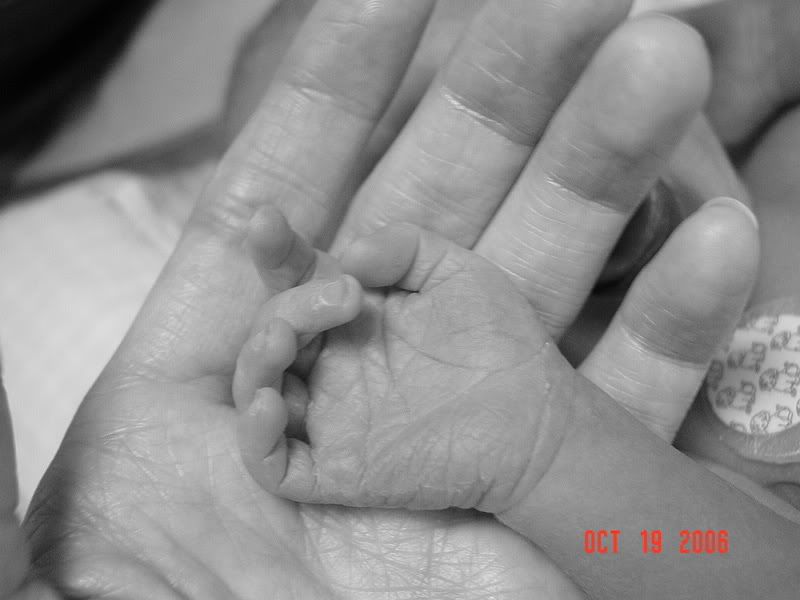 Big Hand: the Brother
Baby Hand: a Nephew (Alex)
Just thought I'd let you all know that I'm now a proud aunt to triplet boys. Benjamin Thomas, Ryan Anthony, and Alexander Michael joined this rainy world on Thursday, October 18th. They made it to 33 weeks before demanding a birthday... which is pretty good for triplets, from what I hear.
Last weekend, I got to visit them for the first time. The family spent a marvelous hour or two tickling Alex's feet and laughing at Ben while he smacked Alex in the face (they share an incubator). The coup de gras: I got to actually hold Ryan. He was so darn adorable and wiggly.
Just a few weeks old and they're already proving what I suspected: they have my brother's energy, so we won't be able to turn our backs on them for a second!
My brother and his wife are doing well. They're back home in Olympia, but one or both of them drives to Seattle every other day to visit the boys. Ben's already hit his four-pound mark, and all three babies have begun to spend part of their day in an open-air crib before being returned to the incubator.
I am going to be That Disgusting Aunt. You know, the one who spends her entire paycheck on
fabulous baby books
and ridiculously cute
baby socks
? I think this is a lovely trait to add to my resume.
But what with nephews to spoil and parent conferences to survive, I haven't worked on my novel or--truth to tell--even thought much about the blog. Life's been a blur of Other Stuff. But today I have the day off from school... so, after I go into school for about three hours of grading and planning (see how that "off time" works?) I'm going to come home, clean my apartment, do a little shopping and then
WRITE
bef0re The Boyfriend gets here for our weekend.
Exciting, no?